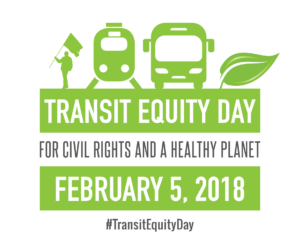 SANTA FE JOINS DOZENS OF CITIES TO CELEBRATE
"TRANSIT EQUITY DAY" IN HONOR OF ROSA PARKS' BIRTHDAY
What: Transit Equity Day is a national day of action to highlight links between civil rights, environmental justice, worker justice and public transportation, commemorating the birthday of Rosa Parks, a famous civil rights activist. In Santa Fe, Mayor Gonzales has issued a proclamation declaring February 5 as "Transit Equity Day." Chainbreaker Collective, a local transportation advocacy organization, will participate by releasing a non-partisan voter guide in which candidates answer questions about transit equity for the upcoming city election and distributing it to bus riders.
When: Monday, February 5 at 12:30 PM
Where: Inside a bus in front of the City Hall
Why: The City of Santa Fe has a stated goal to increase transit ridership by 2% annually as part of a strategy to achieve carbon neutrality by 2040. Many elected officials currently serving and candidates up for election have acknowledged the importance of public transportation in combating climate change and in creating a path out of poverty for working families in Santa Fe. The national day of action honoring Rosa Parks' birthday provides a backdrop to highlight local progress that has already been made and future goals for further progress toward Transit Equity in Santa Fe.
Background: Santa Fe's high cost of living forces many low-income people to move farther from the city's center, often to areas that lack amenities, jobs or adequate public transportation, locking most into car-dependency. Car-dependency can consume up to 1/3 of the income of working families and is the largest contributor to climate change causing CO2 emissions in Santa Fe. Community groups and public officials have been and will continue to work together to address these problems through policies that increase Transit Equity in Santa Fe. These issues are not unique to Santa Fe. The national day of action was organized by a coalition of national and local organizations and will take place in dozens of cities across the country. Rosa Parks, a Black woman, helped launch the Civil Rights movement when she refused to give up her bus seat to a white man in the Jim Crow South. This action is often credited as the catalyst for the famous Montgomery Bus Boycott that brought the civil rights movement into a national spotlight. Her birthday is actually February 4, however, because this falls on super bowl Sunday, February 5th was chosen as the national day of action.
Who: Chainbreaker Collective is an Economic and Environmental Justice organization in Santa Fe with over 600 dues-paying members, the majority of which are transit dependent bus riders and bicyclists.
Speakers:
Councilor Joseph Maestas (District 2)

Linda Ortiz-Martinez (a transit dependent bus rider)

Byron Treaster, (President of NAACP Santa Fe Branch)

A member of Somos Un Pueblo Unido's Workers' Committee