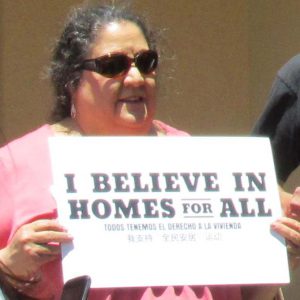 Chainbreaker is an organization made up of our members. They provide the leadership, activism and inspiration for our work.
That is why it is always so hard to loose one of our compañeros or compañeras.
Janine Anton, proud Chainbreaker member, labor activist and lifetime resident of Santa Fe, departed unexpectedly from this world on Thursday, July 24, 2014. This happened only weeks after she spoke at a Chainbreaker rally at the launch of our Resident's Bill of Rights campaign. (See a video of her speech here).
Janine was a passionate and selfless community leader who worked tirelessly to make this world a better place. Her absence will be deeply felt, but her many contributions and fighting spirit will continue to go on.
Chainbreaker is deeply honored that the family has requested we receive donations in lieu of flowers to honor the life and legacy of Janine. Memorial donations can be made here.
A Memorial Service will be held at Hotel Santa Fe on Saturday, September 13, 2014 at 1:00 PM.
Read Janine's Online Tribute Here