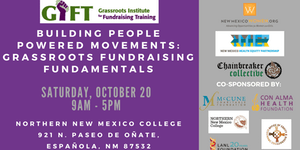 Save-the-Date on Saturday, October 20th for a
Grassroots Institute for Fundraising Training!
NewMexicoWomen.Org, New Mexico Health Equity Partnership, and Chainbreaker Collective are excited to announce that on Saturday, October 20th 2018, the national organization, Grassroots Institute for Fundraising Training (GIFT) will offer a transformative day-long fundraising training in Española at Northern New Mexico College for organizations across New Mexico.
This is not your average fundraising training! GIFT challenges conventional fundraising by centering grassroots fundraising as an essential strategy in working against oppression towards social justice. The GIFT training, "Building People Powered Movements: Grassroots Fundraising Fundamentals" will provide introductory and intermediate fundraising training, including topics such as:
The Politics of Fundraising: Unpacking Our Relationship with Money

Building Your Donor Base: Grassroots Fundraising Strategies and Proven Practices

Social Justice Fundraising & Philanthropy in the U.S.

Cultivating Individual Donors & Making the Ask

Implicit Bias and Fundraising

Creating an Annual Development Plan
This training brings GIFT's expertise to New Mexico at a deeply reduced cost and scholarships are also available upon request. This training is geared towards supporting and building the capacity of individuals and organizations who are led by or serving communities of color, immigrants, LGBTQ, youth, people with disabilities, and people from low income, border, frontier, and rural communities, as well as organizations with budgets under $500,000.
Register for the training here (https://www.eventbrite.com/e/grassroots-institute-for-fundraising-training-in-new-mexico-building-people-powered-movements-tickets-49359622961)!
For scholarships, email Carli Romero at carli@newmexicowomen.org
Childcare, Spanish interpretation, and ASL interpretation are available upon request. Please register by September 28th to ensure we can accommodate everyone's requests.
We are thankful for the generous support from our funders and co-sponsors: Con Alma Health Foundation, LANL Foundation, McCune Charitable Foundation, New Mexico Health Equity Partnership (an initiative at the Santa Fe Community Foundation), NewMexicoWomen.Org, and Northern New Mexico College's Office of Equity and Diversity. This training is organized and brought to you by Chainbreaker Collective, New Mexico Health Equity Partnership, and NewMexicoWomen.Org.
Participants are also invited to join us the day before the GIFT training, on Friday October 19th for New Mexico Health Equity Partnership's 2018 Statewide Health Equity Gathering also held at Northern New Mexico College in Española. Visit their event page for more information (http://nmhep.org/event/statewide-health-equity-gathering/).