A New Way of Creating Housing Policy Takes Hold in Santa Fe!

In July, 2015, the tireless work of Chainbreaker members, community members and ally organizations paid off when City Council voted unanimously to pass the Resident's Bill of Rights resolution.
Dozens of Chainbreaker members and community members showed up at the meeting to voice their support for the resolution. After a limited attempt by one City Councilor to make changes that would have significantly weakened the language of the resolution was thwarted, the resolution passed with all City Councilors and the Mayor voting in favor.
The lead sponsor of the resolution, Councilor Maestas , along with Councilors Bushee and Dominguez made very strong statements in support of the resolution, acknowledging the community need and validating the experiences and efforts of the hundreds of Santa Feans who conceived of, created and advanced this resolution.
The resolution takes five pillars from Chainbreaker's Resident's Bill of Rights to create a framework for how housing and planning policies should be made from now on. The five pillars are:
Affordability — Housing in Santa Fe should be affordable relative to household income and other reasonable expenses.
Quality, Sustainability and Health — Housing in Santa Fe should contribute to individual, family, community and planetary health.
Accessibility, Fairness and Equity — Housing in Santa Fe must be made accessible to historically marginalized peoples and be well integrated socially and geographically.
Stability, Permanence and Protection from Displacement — Ensure that Santa Feans' homes are protected from irrational market forces and changes in government policies over the long term.
Community Control — Santa Fe's housing should be controlled democratically with special protections allowed for low-income and neighborhoods of Color.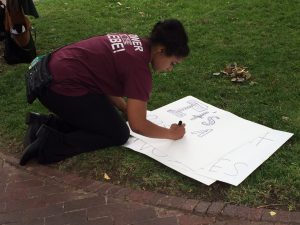 The passage of this resolution sets the stage for important conversations and new planning policies that support the needs of the community. It creates a precedent and a new tool to hold elected officials accountable to the needs of all Santa Feans.
It is not an end in and of itself. It is only the beginning.
Chainbreaker members will continue to organize to bu ild support for the next steps toward housing justice that this resolution enables.